Welcome
The American Board of Funeral Service Education (ABFSE)
The ABFSE serves as the national academic accreditation agency for college and university programs in Funeral Service and Mortuary Science Education. Although its roots go back to the 1940's, the ABFSE became an autonomous agency in 1962. The accrediting function of ABFSE is recognized by the US Department of Education and the Council on Higher Education Accreditation.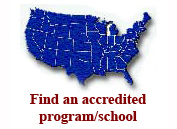 ABFSE Officers Installed at 56th Annual Conference (above)
Pictured left to right:
Karl Kann, Immediate Past-President; Jzyk Ennis, President ;
Jolena Grande, Vice-President; David Martin, Secretary/Treasurer.

ABFSE 56th Annual Conference in Anaheim, CA
ABFSE met in Anaheim, CA for its annual meeting which included committee meetings and professional development sessions. Cypress College, Cypress, CA served as the host institution.
Annual Conference Highlights
What did you miss?
Dr. Janet Stephens leads professional development session (above)

American Board of Funeral Service Education
2018 Hilgenfeld Curriculum Workshop
The ABFSE Hilgenfeld Curriculum Workshop was held in Kissimmee Florida August 3 - 4, 2018.
The ABFSE curriculum is reviewed annually on a prescribed rotation. The workshop was held immediately prior to the National Funeral Directors and Morticians Association National Convention and Exposition. Pictured are attendees of the workshop.
_______________________________________________________________________________________

Meet the Scholarship Recipients
ABFSE Scholarship Committee made 5 scholarship awards totaling $8,500 in October 2018. 74 application inquiries were received and 18 complete applications were considered.
Meet our Scholarship recipients:




Other Undergraduate Scholarship Recipients

Holly Herrera: Cypress College
Rachel Metzger: Arapahoe College
Alexander Mock: Worsham College
Taylor Slone: Cincinnati College of Mortuary Science

Wylie Halferty
Carl Sandburg College
View bio here

Colleagues in the News
Activity abounds at the ABFSE accredited schools and programs.
Click the links below to read more about special events and announcements.
American River College
https://www.sacbee.com/news/local/article222681980.html
San Antonio College
https://therivardreport.com/sac-mortuary-science-students-focus-on-helping-families-amid-grief
University of District of Columbia Community College
https://www.washingtonpost.com/news/magazine/wp/2018/12/10/feature/handle-with-care