Welcome
The American Board of Funeral Service Education (ABFSE)
The ABFSE serves as the national academic accreditation agency for college and university programs in Funeral Service and Mortuary Science Education. Although its roots go back to the 1940's, the ABFSE became an autonomous agency in 1962. The accrediting function of ABFSE is recognized by the US Department of Education and the Council on Higher Education Accreditation.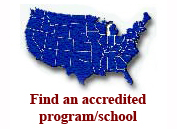 ABFSE meets in Nashville, TN and Dallas, TX
The American Board of Funeral Service Education held its 2021-22 meetings in Nashville, TN on October 13-16, 2021 and in Dallas, TX on April 5-8, 2022.
Representatives from 25 ABFSE programs attended meetings of the Executive Committee, Committee on Accreditation and a Self study Workshop in Nashville. The ABFSE Annual Meeting was in Dallas with representatives from 49 schools in attendance and 9 participating via webcast hosted by Tribucast.
________________________________________________________________________________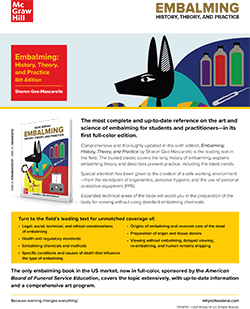 About Embalming: History, theory, practice
(available March 2022)
Embalming: History, Theory, and Practice
Sixth Edition: 9781260010077:
Medicine - Health Science Books @ Amazon.com
To obtain instructor resources for Embalming: History, Theory, and Practice, 6e, email Sydney Keen (sydney.keen@mheducation.com)
Download Press Release (PDF)
Embalming Textbook - Click here for details
________________________________________________________________________________

Annual ABFSE Curriculum Review
Each year the Hilgenfeld Family Foundation for Mortuary Education sponsors the ABFSE Curriculum Review Workshop. Tidewater Community College served as host for the 2022 ABFSE curriculum review session June 2-4, 2022. The curriculum outlines for Merchandising, Business Law and Ethics were evaluated. Click here for more details.
________________________________________________________________________________

Meet the Scholarship Recipients
In the past academic year, ABFSE received 70 scholarship inquiries (68 undergrad and 2 post-grad in April 2022. Five (5) undergraduate scholarships were awarded for a total of $11,000. Meet our recipients. Scholarships are made possible due to the generosity of the Scholarship Sponsors recognized below.
No Photo
Available

Robert Bergman
Worsham College of Mortuary Science
Wheeling, IL
No bio available

Ashton Camerot
Pittsburgh Institute of Mortuary Science
Pittsburgh, PA
View bio here

Jessica de Jesus
Mt. Hood Community College
Gresham, OR
View bio here

Kami Gremillion
Cypress College
Cypress, CA
View bio here

Tammy Truong
Carl Sandburg College
Galesburg, IL
View bio here
________________________________________________________________________________

Colleagues in the News
Activity abounds at the ABFSE accredited schools and programs.
Click the links below to read more about special events and announcements.
San Antonio College receives Aspen Institute prize for 2021 Community College Excellence.
President of AAMI discusses nationwide enrollment trends
Connick discusses declining enrollment in Director.edu
San Antonio College
https://therivardreport.com/sac-mortuary-science-students-focus-on-helping-families-amid-grief
University of District of Columbia Community College
https://www.washingtonpost.com/news/magazine/wp/2018/12/10/feature/handle-with-care
Learn more about:

•

•

•

•

•

•

•


You served your country in the armed forces.


What's Next? Have you considered the Funeral Service Profession?
Click here for more information.

•

Town Hall and Professional Development notes
Click here for more info
ABFSE Fall Calendar
Click here for details
September 30, 2022
Town Hall
Click for details

September 30, 2022
Curriculum outlines comments due

October 8, 2022
Strategic Planning-Baltimore, MD

October 9, 2022
Self study Workshop

October 19-20, 2022
COA in Chicago, IL

October 21, 2022
Executive Committee (via zoom)

November 2, 2022
Assessment Workshop
Details t/b/a


The National
Scholarship Program
of the American
Board of Funeral Service Education provides financial awards to students enrolled in funeral service or mortuary science programs to assist them in obtaining their professional education.

Apply for your Scholarship Online!